Welcome to the Perinatal Society of Australia and New Zealand
The Perinatal Society of Australia and New Zealand (PSANZ) is a multidisciplinary society dedicated to improving the health and long term outcomes for mothers and their babies. PSANZ encompasses and strongly encourages research focused on mothers and babies during pregnancy and at birth as well as the health of the newborn as its development continues after birth.
---
The PSANZ 2023 Congress
The PSANZ 2023 Congress will take place from the 5th - 8th March at the Melbourne Convention and Exhibition Centre. The theme for the meeting is 'Laneways to Better Perinatal Outcomes'.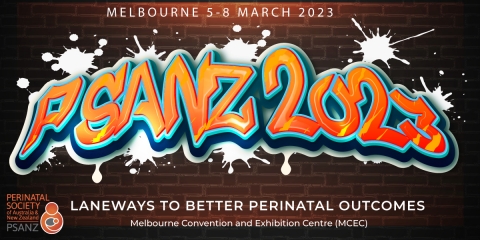 We look forward to seeing you in Melbourne.
If you have any questions regarding the event, please contact CORP COMM.
Latest News
Latest News
PSANZ Members' News We always welcome items of interest for the PSANZ community. Please email us news of your branch, sub-committee, of upcoming meetings or an article you found relevant. They could make an appearance in the next PSANZ news! We appreciate ...